Meet Our Co-Owner, Member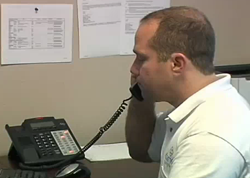 Scott A. Peterson, co-owner and member, has been in the indoor air quality and energy efficiency industry since 1993 and has a Texas Air Conditioning Contractors License (TACLB28267C) and an EPA Refrigeration Certificate.
Professional background includes Senior Vice President of Operations at Rotobrush International from 1993 to 2008. At Rotobrush he designed the Rotobrush aiR+ Air Duct Cleaning System and has 3 patents on the system. He developed the training system for Rotobrush International for air conditioning contractors as well as entrepreneurs and others for duct cleaning systems.
Educational Background included BSBA from the University of Phoenix, completed Air Conditioning Contractors Association (ACCA), approved courses, 5 years membership with NADCA as an Air Systems Cleaning Specialist (ASCS), 3 years membership with Indoor Air Quality Association as a Certified Indoor Environmentalist (CIE),Rotobrush Certified Technician, Rotobrush Certified Trainer, and numerous seminars and training classes were attended across the United States while at Rotobrush.